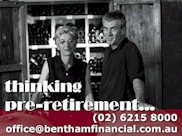 Budget'09 Strategies and End of Financial Year
On 12 May the Federal Government released its 2009 Budget with a focus on nation building primarily through infrastructure expenditure. Tax revenue is down and the debt blowout is massive – resulting in some tough (well…toughish) measures being introduced.
From a financial planning perspective, the impact of the Budget is not as great as those we have seen in the last few years. Never-the-less, we've put together five strategy articles that focus on the more important of the financial planning issues.
It is really important that you get your superannuation contributions strategy right over the next 30 days, so don't miss the article on contribution cap changes!
Remember, if you have any questions or concerns please contact us anytime.
The Team @ Bentham FINANCIAL GROUP
Advice | Superannuation | Retirement | Investment | Insurance
2008 National Winner | Business & Advice Awards | Advice Award
2007 National Winner | Financial Planning Association Award - Pre-Retirement Planning
2007 National Winner | Financial Planning Innovation & Excellence Award